-10%
Stacks
On Edge Ultimate
2lb Whey Protein Chocolate - Choose Your Flavor
BCAA Lemon Lime - Choose Your Flavor
Pre-Workout - Choose Your Flavor
Oxy Burn Fat Destroyer
1 × Oxy Burn Fat Destroyer
Neuro Plus Brain and Focus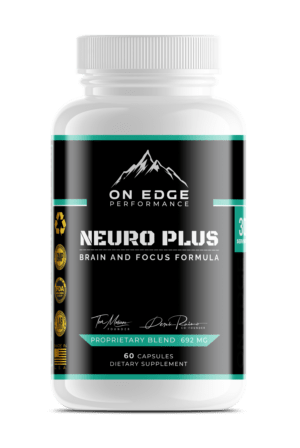 1 × Neuro Plus Brain and Focus
💪2LB Whey Protein
💪Per-Workout 🍉Watermelon
💪BCAA Shock Powder 🍋Lemon Lime Squeeze
💪Oxy Burn Fat Destroyer 🔥
💪Neuro Plus Brain and Focus
👊5 Accreditations
Alright, so you're dedicated! Awesome! On Edge, Neuro Plus is our Nootropic. Nootropics are natural supplements that have a beneficial effect on brain function. They help boost memory, motivation, creativity, alertness, and general cognitive function. But, of course, you'd know this if you had ours.
On Edge Oxy Burn Fat Destroyer is no joke! It's formulated for a three-capsule serving, but we doubt most On Edgers will need more than two capsules. We have many great ingredients that promote weight loss, including six patented ingredients. On Edge, pre-workout will have you cursing any workout with a generous amount of stimulants, thermogenic, and even more nootropics. Yup Awesome!
On Edge Recovery is our blend of BCAA and EAA with added coconut water and electrolytes for the ultimate hydration support. Pink Himalayan sea salt and magnesium, and potassium. If you're going to put the effort in, we have your back!
On Edge, protein has been formulated for extra muscle, joint, and overall wellness support. We added 25g of protein to every single scoop. Yes, that's right. So you get a complete serving of protein and digestive enzymes in a scoop. You can thank us later!
Hey, On Edgers, if you're going to put the work in, we are here for you!